Wildflower Seed Mix
"Miriam Rothschild Wildflower Meadow Mix"
The famous Ashton Estate wild flower seeds are still harvested and are available for sale.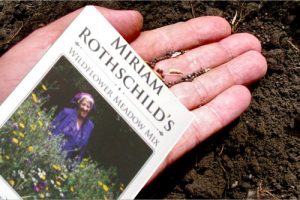 Contents: Oxe-eye daisy, Buttercup, Ryegrass, Knapweed, Cocksfoot, Meadow fescue, Rough hawkbit, Hawkbit, Tall oat grass, Knot grass, Timothy, Scarlet Pimpernel, Primrose, Greater plantain, Yellow rattle, Sorrel, Birdsfoot-trefoil, Vetch, Red clover. Also includes other random meadow species. Every packet / bag of seed is different and full of surprises.
2g = £1.00
10g = £5.50
100g = £24.50
1kg = £95.00
For orders of 10 kilos or more we offer a reduced rate per kilo.
Orders and queries can be made by email to Carol Maibaum wildflower@ashton.ohllimited.com or telephone: 01832 272264.
All profits from these sizes go to Survive Cancer's Sepsis Shock Clinical Trial. For more information regarding the charity go to www.canceraction.org.uk
The Story of Miriam Rothschild and Her Wildflower Meadows
World famous zoologist, entomologist, naturalist and academic, Dame Miriam Rothschild, was passionate about wildflower conservation and promotion which she certainly practiced at Ashton.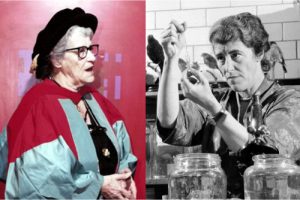 Miriam Rothschild (1908 to 2005) was born at Ashton Wold in Northamptonshire. As a child she helped her father, Charles Rothschild, with his butterfly collecting from the family's country house with formal gardens set in a wild woodland enclave. He too was a conservationist and pioneer having founded the Society for the Promotion of Nature Reserves.
The preference of Miriam Rothschild for tending to the grounds on the estate was for wildness over order. The house that she inherited was covered in carefully selected creeping plants and flowers and the lawns transformed into a sea of wildflowers. Some of the planting was of rare plant species and orchids which were in part designed to attract insects, the study of which was another of her great passions.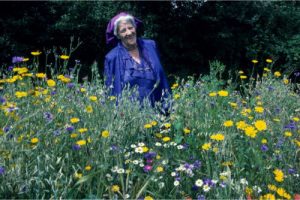 As well as the gardens, meadows and woodlands at Ashton, Dame Miriam advised and assisted with other wildflower plantings. A famous wildflower meadow that Dame Rothschild helped to sow was at Highgrove, the home of the Prince of Wales.
Dame Miriam Rothschild wrote over 300 publications, was a Fellow of the Royal Society, the first woman to be a trustee of the British Museum (Natural History), was awarded eight honorary degrees, was appointed CBE (Commander of the Order of the British Empire) in 1982 for her services to the study of natural history and DBE (Dame Commander of the Order of the British Empire) in 2000.
General Planting Information
The wild flower seed can be broadcast-sown from early spring onwards (no need to wait until summer), with secondary and supplementary sowings thereafter to establish the weave of meadow plants and to compensate for any bald patches. One does not need an acid soil to grow these seeds – pH above 6 would still give good results. The soil should be of low fertility if possible – do not be tempted to fertilize it. OR, if your soil is fertile, allow for a year or so of rather rank growth from the newly sown wild flower seed mix while it uses up the excess nitrogen and settles into its proper pattern of life. Good light, reasonable drainage and, ground cleared of competitors are all important.
So far as sowing rates are concerned for the wild flower seed mix, the best guide probably comes from Miriam herself. She recommended '4 kilos to the acre if drilled into close-cut sward and 8-9 kilos if drilled into bare soil'. Most gardeners will be sowing onto bare soil and by broadcasting (throwing out hands full of seed over the surface – like feeding hens) rather than drilling, so the heavier rate (9-10 kilos per acre) will be better for them.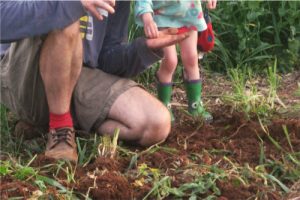 Making a meadow is always a somewhat hit-and-miss affair. At the beginning there are bound to be some bald patches and other places where germination has been too successful. The best thing is to be generous to start with.
In our experience of making far smaller meadows than Miriam's, we sow as if for a hard-wearing lawn (that is 25g per square metre) and keep some seed in reserve to re-sow any thin spots later. Where feeding birds or rodents are likely to be a problem, the seeds can be buried just below the surface either by drilling them with a mechanized cultivator, or (on smaller areas) by raking them in lightly or by covering them with a thin layer (0.5-1cm) of fine tilth. More desirable species such as primroses, corncockle and lady's smock, can always be started separately in pots and then planted out into the meadow either in existing bald spots or in small (ie 10cm square) clearings that one makes in the sward. It is not an exact science even when conducted by a scientist of Miriam's standing, so the best and essential thing is just to give it a go and see.
We recommend you cut it once a year after seed has set – mid July. Mowed late July to August, and then mowed again when all growth has topped in late Autumn. Some species do not appear till the 2nd, 3rd and 4th years.
The estimated quantity needed is about 4 kilos per acre for grass fields and about 8 kilos per acre for ploughed fields.
NB. We cannot be held responsible for non-germination of wildflower seed or any consequential loss due to conditions outside of our control.